Dead Animal Removal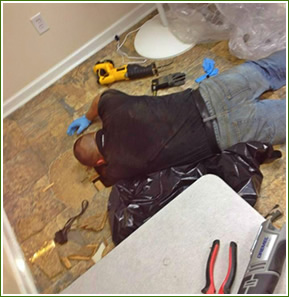 Dead Animal Removal services in Tennessee, South Carolina, Kentucky, Florida, Indiana, and Illinois by Animal Pros wildlife specialists. One of the first concerns when a animal dies in your home or business is the odor. Wild animals will typically hide away in small accesses like attics, crawlspaces, and walls. When the animal dies, it will start to decay and can attract other pesky creatures into or around your home. Professional Animal Pros assistance is recommended in finding and removing dead animals, as they are likely not in a easily accessible place.
Animal Pros specialists, in most cases can smell the air in the interior of your home and diagnose exactly what kind of animal it is, and if dead or alive. Our trained professionals will find the source of the dead animal, and remove it safely. We provide odor control services, disinfecting and sanitizing services, and restoration services to remove the smell that will happen as a result. If the animal has damaged the area or insulation, we can also provide immediate restoration services to bring your home back to it's original condition.
Some of the typical dead animal nuisance concerns are:
Dead animal in attic.

Dead animal under home.

Dead animal in walls.

Dead animal in vent.

Dead animal in insulation.

Dead animal under vapor barrier.

Dead animal in duct line.

Dead animal in chimney.

Dead animal in yard.

Dead animal on road.

Dead animal on fence.

Dead animal under deck.

How to get rid of a dead animal.

Dead animal smell and presence of flies.
Dead Animal Removal isn't always a simple process. It usually includes crawling into tight, cramped spaces in potentially hazardous conditions. The dead animal must be found, removed and properly disposed of. Then the area must be cleaned and decontaminated. It is also critical to perform animal exclusion to ensure the area is properly sealed off to prevent any animals from returning.
Municipality Dead Animal Removal Services
Animal Pros offers city wide dead animal and dead carcass removal services from public roads for city departments. Most cities are coming to the realization with budget constraints and increased dead animals and the need for the service from public roads, to contract a private wildlife company. Services will be same day pick up, and disposal handled according to local, state, and federal regulations. Dead Animals that will be picked up for a fee include small animals, dogs and cats, and coyotes and deer. Horses and Cows would need to find a private service for disposal pick up, or to haul to a landfill. Dead Animals on private property will need to contact a Animal Pros specialist, as there is no service provided by the city for removal on private property.
For Dead Animals on a public road contact one of your local city departments for help.