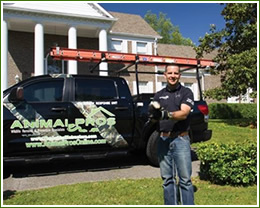 Animal Pros offers wildlife removal services in Tennessee, Kentucky, Florida, South Carolina, Indiana, and Illinois. We provide humane and permanent solutions for wildlife removal and animal removal to homeowners, property managers, businesses, and government. We achieve this by using the most advanced technology in detection, prevention, repairs, and clean up of wildlife damage and wild animal problems.
Our 100% humane solutions, utilize the most modern and up-to-date methods and equipment. We excel by using proven techniques that are proven safe for your family, pets, home, and business. If you have wildlife in your home or on your property, have noticed droppings, or scratching noises, contact us and we'll solve the problem quickly.
Wildlife Control Services
Wildlife Control services provided by Animal Pros State Certified specialists is 100% safe and effective. With the largest staff all over the midsouth and southeast, there is no sub contracting here. We are equipped and staffed to adequately handle animal removal, quality repairs, restoration and clean up, disinfecting and sanitizing, along with excellent customer service, providing a permanent solution and peace of mind protecting your family, home, and business.
Multi State Certified
Bird Barrier Certified Installer
Bat Standard Compliance
National Wildlife Control Operator Association
Certified Urban Marksman
Aerial Lift Certified
Largest Private Wildlife Removal Company
A+ BBB Accredited
Angie's List Approved
Home Advisor Approved
Experienced and Highly Trained Technicians (Animal Pros Certified)
Animal Removal Services
Animal Pro's initial visit includes a visual inspection of your attic and crawlspace, animal damage, wiring, insulation, ductwork, and other animal evidence to accurately pinpoint the kind of animal or animals causing the damage. You will be given a Personalized Inspection Report, detailing your needs and describing all your options as well as an itemized estimate for any recommended Animal Pro's services. Animal Pros provides animal removal services for:
Bat Removal
Bird Removal & Control
Raccoon Removal
Skunk Removal
Squirrel Removal
Dead Animal Removal
Rodent Removal & Control
Coyote Removal
Pest Management and more
Pest Management Services
Pest Management Services provided by Animal Pros specialists are (Green Services), utilizing safe and effective solutions using no poisons. Most homeowners and business owners think a wildlife control company and a pest control company are the same. Understanding the difference can aide you in permanently solving your animal or rodent problem. When you receive a wildlife inspection from a Animal Pros specialists you will see the difference in permanently solving complicated pest management issues. Animal Pros pest specialists offers services that exceed expectations, offering inspections, diagnosis of problem pest, repair of openings, and even disinfecting, sanitizing and restoring of pest damage. That is whats needed for a long term solution and understanding the process is half the battle.


---
100% Humane and Permanent Wildlife Removal and Animal Control
---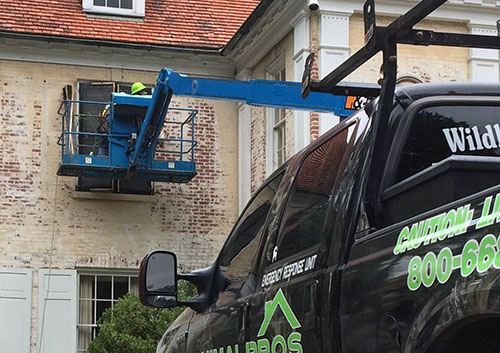 RESIDENTIAL
Affordable
Immediate Response
Removal and Repair
Humane Capture and Release
Odor Control
State-Certified
COMMERCIAL
Accredited
Trusted By Major Metro Governments
Effective, Non-Intrusive
Contamination Clean Up
Environmentally Friendly
Protect Your Family, Home, and Investments