Wildlife Removal Tampa ~ 813-895-3534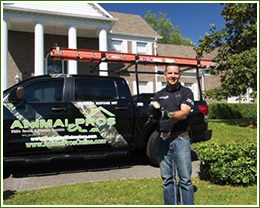 Animal Pros in Tampa, Florida is your best solution for wildlife removal and rodent control problems offering industry leading professional services. With area wide service all over Tampa Bay area wide, we offer professional and prompt same day service for all your wildlife and animal removal needs. Our humane solutions are the best choice for homeowners, businesses, property managers, and government. We utilize the most modern equipment and techniques that are safe for your family, pets, home, and business. Animal Pros specialists are state certified, fully licensed and insured, carry three times the required liability insurance, and carry workers compensation. Rest assured, while on the job, our specialists are protected. Thousands of commercial and residential clients trust Animal Pros, so should you. Call today and allow our specialist knowledge to work for you.
Wildlife Control Tampa
Animal Pros offers wildlife control services in Greater Tampa area wide. We are not a free service. Have you ever heard the phrase "Go With The Pros"? We are the pros everyone refers too when it comes to animal removal and wildlife control. Animal Pros specialists are experts in dealing with all of greater Tampa Bay's wildlife and animal issues. Our team of specialists are equipped to handle large scale jobs and control progressive wildlife damage. What seperates us from other wildlife companies?
– Multi State Certified
– Bird Barrier Certified Installer
– Bat Standard Compliance
– National Wildlife Control Operator Association Membership
– Certified Urban Marksman
– Aerial Lift Certified
– 2015 Angie's List Super Service Award
– A+ BBB Accredited
– Angies List Approved
– Home Advisor Approved
– Experienced and Highly Trained Technicians (Animal Pros Certified)
– Check out what out clients say: google.com/+AnimalProsWildlifeRemovalTampa
Animal Pros specialists go to great extents to ensure proper wildlife control. Once animals are captured, they will be relocated in a timely manner. Once all the animal are out, we can begin the process to repair openings, to ensure animals will not return. Wildlife services are offered in Hillsborough County, Pinellas County, Pasco County, Hernando County, Citrus County, and Marion Counties in the Greater Tampa, Florida Area.

Animal Removal Tampa
Tampa Animal Pro's initial visit includes a visual inspection of your home, attic and crawlspace, species of animal causing problems, wiring, insulation, ductwork, and other animal evidence to accurately pinpoint the kind of animal or animals causing the damage. You will be given a Personalized Inspection Report, detailing your needs and describing all your options as well as an itemized estimate for any recommended Tampa Animal Pro's services. Common Wildlife removal problems in Tampa include:
Wildlife in your attic.
Wildlife under barrel tile roof.
Animals in your soffit.
Wild animals in your lanai.
Wildlife under your solar panels.
Animals in your pool.
Dead wildlife in or around your home.
Rodent Management Solutions.
Feral Hog Control programs.
Coyote Control programs.
Animals under your home.
Humane Bat eviction services and Bat house installation.
Wild Animal Contamination and Remediation Services.
Bird Control and Roosting deterrent programs.
Venomous and Non-Venomous snake removal services.
Animal Control In Tampa
Why are wildlife problems increasing in the Greater Tampa Bay area? Continual development and building of wooded green areas have contributed to a increase in human – wildlife conflicts. Animalsare becoming accustomed to living residentially. In addition, Animal Services has discontinued service for wildlife problems as a result of Government budget cuts. Wildlife assistance is available through private companies statewide. We offer safe, fast, and effective wildlife and animal removal solutions, with specialists in every aspect of animal control. We are State Certified and highly trained, and offer professional advice and solution services for homeowners, businesses , and Municipalities. For dogs and cat control or dead animals on the street, please refer to the list below.
Animal Services Contact Information
Hillsborough County (Tampa) Animal Services: 813-744-5660
Pinellas County (Clearwater & St. Petersburg) Animal Services: 727-582-2600
Pasco County Animal Services: 727-834-3216
Hernando County Animal Services: 352-796-5062
Citrus County Animal Services: 352-746-8400
Humane Society Of Tampa Bay: 813-876-7138
How To Get Rid Of Wildlife Problems
When wildlife problems hit close to home, there are several things to keep a eye out for, not only on the outside of your home, but inside as well. Pay special attention to scratching noises, pitter patter of feet, strage odors, and droppings in the interior, as any of these are a sign of a animal problem. There are several things to look for on the outside of your home, and it is best to get a professional wildlife inspection. Our highly trained technicians are available 24 hours a day, and can in most cases just smell the air in your home to diagnose what problem wildlife is there.
Keep Trees and Bushes trimmed 4′ to 5′ from home.
Do not feed pets outside.
Ensure there are no openings in your attic or crawlspace. Check your foundation and roofline.
Keep debris in your yard to a minimum, because wildlife will take that opportunity to use it as shelter.
Avoid feeding wildlife, or using bird and squirrel feeders, because this will attact wildlife and keep them in the area.
Be proactive. If you notice activity, call us today. Our specialists understand wildlife repair and can take the proper steps to ensure animals cant get back in.
Secure openings around decks or sheds as wildlife will use these as shelter.
---
100% Humane and Permanent Wildlife Removal and Animal Control