Nashville Skunk In A Wall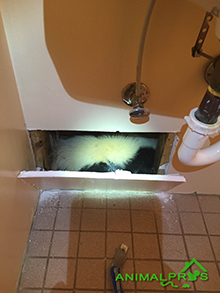 Skunks have the ability once under your Nashville home, to manage to get themselves in some very tight places. Once a skunk is in a crawlspace or basement, it will be searching for a secure, tucked away spot to call home. Skunks do have the ability under a home to go up into wall cavities, subfloors, floor cavities around pipes, and even between brick and block of the foundation. There are several indicators to be aware of if a skunk manages to get into a inaccessible area from under your home. Here are some situations that may mean you have a skunk that has made a home in a wall or inaccessible area.
Skunk traps are not working and undisturbed, but you still hear scratching.
Skunk traps are undisturbed, and you are still experiencing skunk spray every night.
Scratching noises coming from wall, and smelling skunk.
Scratching coming directly under the floor and smelling skunk.
Scratching noises coming from under a bath tub and smelling skunk.
Skunk in a Wall Cavity or Floor Cavity
Skunk in a Wall Cavity or Floor Cavity
Skunks in a wall or floor cavity can be disastrous to your Nashville home or business, especially if a skunk gets itself trapped and cannot get out on its own. Skunk spray is inevitable in most cases, and prompt action is needed to remove the skunk. Skunks are not very big under their fluffy hair, and it makes them appear larger than they really are. Under a home, skunks will wedge themselves through openings around pipes cut into the floor, wall voids, and even through vents leading into the interior.
If you happen to be using a company that has been trying to catch a skunk, and trapping efforts have been unsuccessful, call us for help. Chances are a skunk could be trapped in a inaccessible area, or trap shy. Our experts know skunk biology, skunk behavior, and understand effective skunk control and skunk removal methods. Call Animal Pros skunk removal specialists today.