Skunks Burrowing Under The Foundation Nashville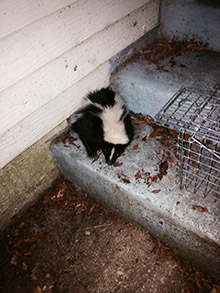 Skunks are well equipped with claws that are built for burrowing and digging, but in close proximity to your home or homes foundation, that could be trouble.
Skunks will utilize burrowing for shelter and to try to dig under debris for nesting locations. Skunk burrowing complaints often include problems like:
Skunks burrowing under front steps.
Skunks burrowing under concrete driveway.
Skunks burrowing under concrete walkway.
Skunks burrowing or digging under the foundation.
Skunks burrowing or digging under AC Unit concrete slab.
Skunk problems that arise from burrowing and digging around your property often require immediate help as its usually only a matter of time before a skunk sprays. During breeding and mating season, the one skunk you observed enter a burrow could reemerge with with multiple skunks creating a smelly situation.
How To Get Rid Of Skunks Burrowing Under The Foundation
Skunks burrowing under the foundation can simply be removed by placing a trap as close to the opening as possible by using a funnel system, and baited live trap. Now once a skunk is trapped, getting close enough to remove a skunk without getting sprayed is another story, and is why professional help is suggested. Call Animal Pros skunk removal specialists for same day service for removing burrowing skunks from the foundation.
Many clients ask, what can be used to repair skunk burrows? It should depend on what material is existing around the burrow. Existing materials around burrows include grass, dirt, gravel, mulch, concrete, and other debris. Most skunk burrows will have some turns or angled paths underground and completely filling the burrow is highly unlikely. Most foundation openings should start with a solid foundation base that will not settle including:
Concrete
Bentonite Clay
Gravel
Applicable dirt and grass seed can be applied on top of a solid foundation base to prevent re-burrowing.