Skunks Getting In a Breezeway or Foundation Vent Under Nashville Home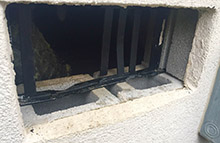 One of the most utilized opening for skunks to access under a home is a foundation vent. Breezeway or Foundation Vents will often come pre screened with bug meshing, which often is great for bugs, but will allow wildlife to easily stick a claw in and rip through the meshing. Most foundation vents will be located close to ground level allowing a skunk to easily wedge and rip through the louvered vents. Once a skunk has entered a breezeway vent, they then have full access to under your home or in your crawlspace.
How To Get Rid Of Skunks Damaging Nashville Foundation Vents
Foundation Vents skunks damage around the home are sometimes not easily seen. Some vents may be hidden under a porch, behind bushes, or in vent wells, and it may require a professional to find out the openings. Skunks are nocturnal, so activity will usually happen at night and sometimes, noises can be heard from the interior giving off the location of the skunk and the area it is using to enter and exit. When checking foundation vents, they must be looked at closely, and check for damage that includes:
Skunks ripping through bug meshing.
Skunks pulling off cover.
Skunks entering under deck.
Skunks digging in mulch beds.
Skunks entering a vent well.
Skunks chewing or clawing at vents.
Animal Pros specialists provide expert repairs for foundation vents offering a permanent solution that lasts a lifetime. Call our specialists today for immediate help to secure your home from skunk intrusions.