Skunk Smell In Nashville Home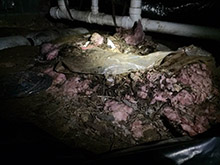 If you are a homeowner or business that has experienced the unfortunate smell of skunk spray in the interior, you're not alone. Thousands, upon thousands of clients request help yearly in dealing with skunk odor and spray in their home or business. Skunk spray in the interior will permeate furniture, fabric, insulation, and even insulation around duct lines. There are certain steps you can take as a homeowner or business owner, and certain things to avoid that may make skunk smell in the interior worse. The first step is to determine the severity of skunk spray. Believe it or not, there are two different forms of skunk spray severity that include:
Warning / Startle Spray: This type of spray indicates the presence of a skunk in close proximity of your home or business. Warning sprays can come from a variety of reasons that include:
Skunk Startled from Dogs or Cats.
Skunk Startled from AC Unit turning on.
Skunk startled from the sound of someone walking on the floor.
Skunk warning another animal to stay away.
Skunk stuck in a tight spot.
Excitement during skunk mating and breeding season.
Juvenile skunks releasing odor for the first time.
Full Skunk Spray: This type of spray indicates a skunk has fully released its spray. Full skunk spray and intense odor in the home can
occur from results of:
Skunk dying under the home or business.
Skunk hit by a car.
Skunk stuck under the home.
Excitement during mating and breeding season with multiple skunks.
What To Do When Strong Skunk Spray Is Detected In The Interior
When the smell of skunk spray is detected in the interior, the first thing you should do is not panic. Assess the situation, as there could be the possibility the skunk is still present under your home, around your home, or in your yard. Skunk Spray can occur anytime, day or night, and can be so severe it will wake you up from a good nights sleep. Severe skunk spray can often be confused with other odors like:
– Skunk Smell Confused with Burning Rubber Smell.
– Skunk Smell Confused with Gas Leak.
With any determination of skunk smell in the interior, you should start by searching for the source. Eliminate the possibility of a gas leak, burning rubber, and if your sure its a skunk, determine openings on the outside of the home that a skunk may be using. It will not make much sense on trying to remove the odor without removing the source, as the smell could happen again at a moments notice. Most cases professional help is needed, as there are several factors that are looked at, and some are not easily noticed.
Looking For The Presence Of A Skunk Under A Home
If you have the courage to search under your home or business for the presence of a skunk, here is several things to look for. If a skunk has been under your home, it is a slim chance you will run into a skunk looking for activity. Skunks in most cases under a home will be in hiding, and concealed from plain view. Looking for animal activity is where to start, which includes:
Openings around the foundation the skunk is using to access the crawlspace.
The presence of skunk droppings on the vapor barrier.
The presence of skunk tracks and muddy paw prints on the moisture barrier.
Skunk damage to duct lines, insulation, and vapor barrier.
The presence of any of these signs will indicate a skunk has taken up residence under your home. Entering a crawlspace you should proceed with caution, as one of the favorite places a skunk will nest is under the vapor barrier or moisture barrier, and normally instead of a hard rocky or dirt surface, you feel a soft padded surface under the plastic barrier, indicating the presence of damaged and torn insulation pulled under the plastic. The last thing you would want to do, is go under a home and find yourself in the middle of a active skunk nesting area. Professional skunk removal is needed to remove all the skunks under the home, call a Animal Pros specialist today.
Is It Safe To Smell Strong Skunk Smell Or Dangerous?
Skunk smell and especially strong skunk odor can affect people differently. If anyone who has ever had a pet that has been sprayed, and then ran inside, knows the eye-watering problems that are associated with skunk smell. Strong skunk odor in the interior are not usually anything more than a unpleasant odor, however certain individuals are susceptible to headaches, nausea, eye watering, sneezing, coughing, gagging, temporary blindness, and even athesma and respiratory problems. Most problems that arise from skunk smell in the interior include:
Interior smells like skunk spray.
Furniture, carpets smell like a skunk.
Smell of Skunk in one room.
Skunk smell over entire home.
How To Get Rid Of Skunk Smell In The Interior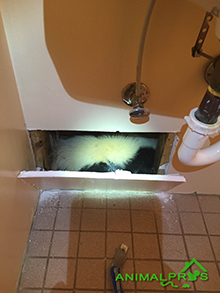 For most people, strong skunk odors require professional help. The longer oderous skunk secretions continue to permeate, the harder they will be to remove the odor. There is no bad answer as to helping remove skunk spray, as everything will help in one way or another. Here is some helpful suggestions that will help aid in removing odor from the interior.
Circulate air with a fan, because still and stale air will cause odors to penetrate deeper.
Light Candles, will help mask interior odors.
Aerosal odor treatment, to deodorize and neutralize odor molecules.
Dryer Sheets over floor registers, will help mask the skunk odors.
Wash clothes, repeat if necessary, and wash immediately.
Open closets, and cabinets to eliminate holding of skunk odor in those spaces.
Open Windows, as ultra violet rays will help neutralize the odor.
Be pro-active, the longer skunk odor sits, the more it will permeate.
Change your filters, because skunk smell will permeate filters.
Professional Skunk Odor Removal Help
Everyone is a "Expert" when it comes to removing skunk odors, but usually fall short when remedies are ineffective. There are certain remedies to avoid, as even restoration companies have started marketing to remove skunk odor, but usually fall short. Understanding how skunk odor works, and effective ways to remove the odor and the source of the odor are key. Skunk spray is a oily yellow-tinted liquid stored in two sacs on both sides of the anus of a skunk. Skunk spray can be released in a mist or fine spray to a perceived threat. Seven compounds make up skunk spray. This in skunk spray which is what causes the repellent odor, and thioacetates help make the skunk smell last a long time. Thioacetates are actually re-activated with moisture or in rainy conditions, which is why skunk odors reemerge on a rainy day. Animal Pros skunk odor removal specialist understand skunk biology, effective skunk odor removal, and construction of your home holding skunk spray, which is why you can reach us 24 hours a day for help with removing skunk odors. There are several things to avoid in dealing with skunk odor, and several things that are effective.
Do Not remove your crawlspace door and leave it off. More Skunks could come in.
Do Not use tomato juice as it is ineffective.
Do Not use feminine hygiene product.
Most commercial skunk scent removers will not be effective.
Do try Hydrogen Peroxide, Baking Soda, and Dish Soap mixture.
Do Not use Ozone Generators, as they are marketed for odor fighting abilities, but there are questions reguarding safety and effectiveness.
Do Not use Ion Generators, as they are marketed for odor fighting abilities, but only remove dust from the air.
Do Not use Air Scrubbers, as they are much like Ion Generators, and will have limited ability reducing strong skunk smell.
Do allow time, as most skunk spray will dissipate on its own in 2 – 3 days.
Do contact a professional, as there will be more required to a solution of the problem than just removing interior odor.
Do use deodorizing aerosol.
Do use Atomizer / Fogger, fine mists positively counter act odor causing molecules, stays airborne longer, circulates throughout the entire area, and achieves effective deodorizing.