Interior Of My Nashville Home Smells Like Skunk
Skunk smell in a home or business can be a nightmare to try to remove, and will often require specialized services. The severity of skunk spray can range in potency and affect people and the home differently, and is not always a quick fix. Nuisance skunk spray concerns include:
How to get rid of skunk odor from inside your Nashville home.

Skunk odor in the interior, but don't smell skunks outside.

Car smells like skunk spray.

Clothes smell like skunk spray.

My home was skunked, and when it rains, skunk smell returns.

Skunk sprayed under my home.

Pet sprayed by a skunk.

How to remove skunk spray.

How to avoid getting sprayed by a skunk.

How to Remove skunk odors.

Skunk sprayed my heating and air unit.

Understanding skunk spray and the key to removing the odor.
How To Get Rid Of Skunk Odor From Inside Your Home
The unpleasant odor of skunk spray fills the interior of your home or business, and leaves many wondering, what to do next? When skunk odor is in the interior, you want to be proactive and take quick action not to let skunk smell absorb into the interior or fabrics. Many clients often think a skunk has sprayed outside the home, or sprayed the heating and air unit, but more commonly, it indicates a skunk is living under your home. Call a Animal Pros specialist for immediate help in removing skunk odor, but in the meantime, follow these steps:
Immediately circulate air, not allowing skunk spray to penetrate fabrics in the interior.

Light Candles, helping to mask the odor.

Smell outside air, this will help indicate if a skunk has sprayed outside.

Smell the air from the crawlspace door, as this will help indicate if a skunk is under your home.

Check for gas leaks, and sewer and pipe issues.

Use aerosol odor deodorizers in the interior.

Open Windows, allowing fresh air to come into the interior.

Open up dead air spaces like closets, cabinets, and drawers.

Change filters, as skunk spray will absorb into the filter.

Immediately wash clothes and repeat if necessary.

Place dryer sheets over floor registers.

Call a Animal Pros specialist 24  hours a day for immediate assistance.
Animal Pros specializes in removing skunk odor from the interior as there are often underlying issues that must be addressed, that are not always seen. For skunk removal to be effective, the source of whats holding the spray must be identified. If you have skunk smell in the interior, and skunk smell under the home, there will be materials under your home that will act as a sponge and hold skunk odor. Call a Animal Pros specialist today.
Skunk Odor In The Interior, But I Don't Smell Skunks Outside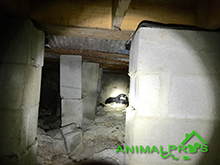 Skunk spray odor that happens to be present in the interior is a sign of bigger problems. Interior odors of skunk spray happen when a skunk has released its spray within a general close proximity to your home, or when a skunk is living under your home. Skunk spray odor smelled outside will often indicate a skunk has released its spray outside and residual odor from the spray has seeped into the interior of your home, usually from the heating and air unit. If you happen to smell skunk spray in the interior and do not smell skunk spay outside, this means the skunk has taken up  residence under your home. The professionals at Animal Pros know skunk behavior and can provide a inspection to help you understand exactly where the skunk is and proper ways to remove it, as well as deodorizing and repairing openings where a skunk may be entering.
My Home Was Skunked, And When It Rains, Skunk Smell Returns
If you are a homeowner that has had the unfortunate encounter of having your home skunked, or pet sprayed that ran inside, you know the trouble it causes. Oils in skunk spray will attach to almost everything including furniture, fabrics, clothing, and even carpets. Skunks defensive secretions are composed of components, and part of the component when mixed with water, reactivates the skunk odor, which is why the smell returns in your home on rainy days.
Skunk Sprayed Under My Home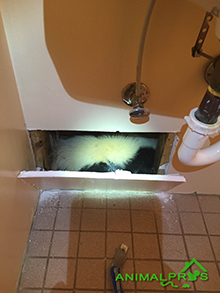 When a skunk sprays under your home, most homeowners are unaware of a skunk problem. Skunk spray happens usually in the middle of the night and can be so severe that it wakes you up from the unpleasant odor. Panic usually sets in as you try to find out exactly what is going on to cause the skunk spray.
The best thing to do is walk outside and smell the air, and if it doesn't smell like a skunk, that means the skunk is under your home. If the air outside smells like a  skunk, then that means the skunk has more than likely just sprayed outside. If you happen to be sure a skunk has sprayed under your home, call a Animal Pros specialist for assistance. In the meantime, open foundation vents, do not leave the crawlspace door open, and call a Animal Pros specialist immediately.
Skunk Sprayed My Heating And Air Unit
Skunk spray around your heating and air unit can easily be transferred through your supply to the interior of the home, alerting a homeowner a skunk is in close proximity to their home. Time is on your side, as in most cases. Skunk smell can be masked by aerosol deodorizers, and removed on its own with open window venting. Strong skunk odor, or severe spray in the interior, you should call a Animal Pros specialist 24 hours a day.
Pet Sprayed By A Skunk
When your dog or cat happens to be sprayed by a defensive skunk, it is important to keep the pet outside or they will bring the skunk odor indoors. Forget the tomato juice bath as it is useless. Skunk spray oils are compounded by water, so understand your pet will likely still smell skunky. Follow these steps to safely remove skunk spray from your pet.
Step 1: Keep Your Pet Outside
If you allow your pet to run inside, the skunk smell will be carried indoors creating a whole other problem.
Step 2: Skunk Spray In Your Pets Eyes
If your pet is sprayed in the eyes, be sure to rinse your pets eyes with cool water. Pets can react differently to skunk spray.
Step 3: Mix Ingredients To Help Remove Skunk Spray
Mix ingredients of 3% hydrogen peroxide, 1/4 cup of baking soda, 1 teaspoon of liquid dish soap, and vinegar diluted with water. Wear rubber gloves so  your hands do not smell like a skunk. Gently work the solution into your pets coat, avoiding getting into the eyes. Rinse, and follow up by regular pet shampoo, and your pet will be much better.
Car Smells Like Skunk Spray
If you have ever passed a skunk on the road, it is inevitable that some of the skunk spray will find its way into the inside of your automobile. In some cases if you hit a skunk, the odorous skunk spray will severely penetrate the interior of your car. The best way to combat skunk spray from the inside of your vehicle is to use a aerosol deodorizer in the interior. Simply open all the doors of your vehicle, spray heavily the interior, and close the doors. Repeat the process if necessary.
Clothes Smell Like Skunk Spray
If your clothes happen to smell like skunk spray from a skunk spraying under your home or outside your home, it is best to immediately wash your clothes and repeat if necessary. Open closet doors and drawers to let out air pockets of skunk odor that have permeated clothes. Stale air will tend to sit in closets and drawers holding skunk odor in.
How To Avoid Getting Sprayed By A Skunk
Skunks have the ability to make their presence known through two types of warnings. Skunks are easily recognizable with the black fur and white stripes and are known for their potent odorous spray that can be detected miles away. Skunk warnings will include:
Skunks stomping the front feet, almost in a lunging motion, to a perceived threat, warning to stay away.

Skunks lifting their tail, warning a threat to stay away, or else.
Skunks do not see very well, so never make sudden movements. Your best bet if a skunk wanders by is to remain still, and let the skunk continue on its course.