Can't Tell If I Smell Skunk Spray or Have a Gas Leak?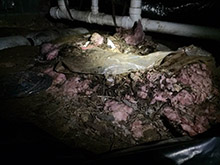 Distinguishing skunk spray odor from a gas leak can often leave a homeowner scratching their head. The most frequent question a homeowner asks is, What Should I Do? Often the smell comes in the middle of the night, and can often be described as skunk smell, gas leak, burning rubber, or even sewer smell. The first thing a homeowner should do is eliminate the possibility of a gas leak. A quick call to your natural gas company, they can quickly diagnose if its natural gas or a skunk smell. Provided are some possibilities in this situation to be aware of.
Skunk Smell – Oily , organic compounds called thiol, that is sulfur smelling and compounded by water, and does more than just smells bad, and used to ward off percieved threats.
Natural Gas Smell– Odorless, but has a chemical added called mercaptan, a skunk odor or rotten egg odor, to alert us of the danger.
Sewer Smell – Rotten egg smell, can smell like a skunk, usually indicating a problem with sewer or septic system.
Carbon Monoxide – Odorless smell, and why homeowners have carbon monoxide detectors to alert to the presence of Carbon Monoxide.
How To Determine Skunk Spray Smell From A Gas Leak
The first step a homeowner should take in distinguishing a gas leak from skunk smell in the interior, is walk outside. The fresh air will not only help to aide in discovery of the source of the smell, but it will also alert you to the presence of skunk smell outside of the home. If you smell skunk smell inside, chances are you will smell skunk odor outside too. Gas leaks will only be smelled inside the home, with exception to a central heat and air unit, but will eliminate a gas leak possibility if skunk smell is present. For safety you can contact your natural gas company, fire department, and contact Animal Pros specialists 24 hours a day or night.