Skunk Droppings In Crawlspace or Under Nashville Home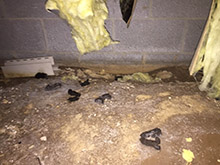 If skunks or any animal has been under your home or crawlspace, their presence will likely be left behind, creating a hazardous condition, and in heavy fecal accumulation, odors can be smelled or detected in the interior. Skunk droppings in a crawlspace do not break down as they would outside, exposed to the elements. Skunk feces under a home will develop mold spores, bacteria, and even harbor parasites or zoonotic disease. Proper cleanup and restoration is imperative, to restore your home or business to a better than new condition. Common nuisance concerns from skunk droppings include:
Skunk droppings in Nashville crawlspace.

Skunk feces under my home.

Skunk droppings in my duct lines.

Skunk feces or droppings on vapor barrier.

Have a slight skunky odor detected in my home.

Removed a skunk, but still have a different odor smelled inside.

Had duct damage but need droppings removed.

Crawlspace restoration Nashville needed from skunk droppings.

Proper clean up procedures under a home.

Health hazards from droppings in a crawlspace.
Skunk Feces or Droppings On Vapor Barrier
Skunk droppings can quickly accumulate once skunks are present under your home. Skunk droppings will be seen not only on top of your vapor barrier or moisture barrier, but they will also be present under the vapor barrier, as this is a skunk's favorite place to create a nesting area to have young. Urine and feces will contaminate the vapor barrier, so there will be no amount of cleaning to restore the plastic. The only way to properly clean up and restore moisture barrier, is to disinfect the crawlspace, remove all droppings, remove the vapor barrier, again removing droppings and nesting, and once everything is out, disinfecting and sanitizing the crawlspace again before anything is reinstalled. Contact Animal Pros restoration specialists for all crawlspace questions regarding skunk damage.
Skunk Droppings In a Duct Line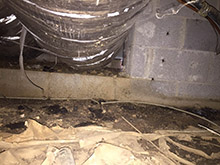 Skunk droppings in a duct line can create a unhealthy environment in your home. If you are using your heating or cooling unit and a skunk has breached your duct lines, you can have odor, dander, and fecal particulates filtered straight into your living space. If a skunk has nested in a duct line, continual movement from the animal over feces causes droppings to be disturbed, releasing airborne particulates that can be filtered throughout your duct system. EPA suggests a complete replacement of insulated duct lines that have been breached by a rodent, vermin, or animal. In most cases this is covered by homeowners insurance, and by most providers, and it's best to call a Animal Pros specialist for guidance on repairing damage or filing a claim.
Crawlspace Restoration Needed From Skunk Droppings
When skunks have been living under your home, damage is common, as droppings will likely be present, in many cases all over the crawlspace. When droppings are present, heavy fecal accumulations will start to have odors, and droppings will mold, contaminating everything it comes in contact with including duct lines, vapor barrier, and floor insulation. The restoration experts at Animal Pros will help with all your skunk damage needs and are available 24 hours a day or night. We specialize in removing skunk spray odor to completely restoring your crawlspace, and we understand the importance of immediate service for what can be a stinky situation.