Skunk Seen in Yard During The Day, Sick or Rabid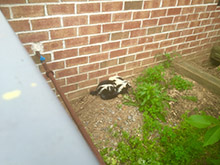 Skunk activity observed during the day can cause panic as most people know skunks to be nocturnal. However skunks can be seen during the day with the availability of food and water, especially in neighborhoods. It is often though that seeing a skunk during the day means it is rabid.
While rabies in skunks is a problem in certain areas, other infections can also be a concern. Densely populated skunk areas, can be a key factor in spreading disease. Any sick or aggressive skunk should be avoided. Often times infected skunks will show signs that they are sick. Signs can include:
Skunks being lethargic, or eradic wandering.

Discharge from eyes or mouth.

Aggressive behavior.

Skunks approaching people and pets.
Rabies In Skunks
Rabies in skunks is a viral infection of the central nervous system and brain. Due to effective post exposure treatments and the rarity of bites from infected animals, rabidskunks are a risk to most pets, rather than people, as the common black and white stripes we know to avoid. The virus is spread through saliva, and after it infects the animal, death of the animal is certain. There are several signs of sickness in skunks that can also be from distemper, hepatitis, mange, and parasites more commonly than signs od rabies.
"Furious Form" Skunks Rabies
This would describe the aggressive form of the rabies virus. Skunks may display overly aggressive behavior by chasing, biting, clawing, approaching, excessive drooling, and being a danger to people and pets.
"Dumb Form" Skunks Rabies
This would describe the dumb form of rabies which includes lethargic behavior, wandering in circles, confused, approaching people and pets, and appearing to have no fear of humans.
Skunk Diseases
Skunk diseases are a possibility, and most skunk diseases are not limited to only contact with a skunk, but also where a skunk has been. Skunks are the number one carriers or rabies in some areas, and are carriers to other diseases that can be a risk to people and pets. Avoid areas where a skunk has been, or areas where skunk droppings have accumulated. Skunk diseases include:
Rabies

Leptospirosis

Giardiasis

Distemper

Canine Hepatitis

Feline Panleukopenia Virus

Parvovirus

Toxoplasmosis

External Parasites