Have Bats, Now Notice Bat Bugs Nashville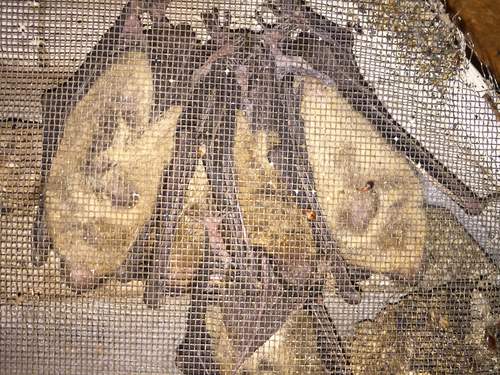 Are you in need of bat removal from your soffit or attic and now happen to notice bat bugs in the greater Nashville area? Animal Pros of Nashville offers the best bat control and prevention solutions for bats in a home or commercial business. If you are seeing bats roosting on your house, or flying over your roof, or hear bats in your attic or walls, call us today, for a no obligation inspection.​
Our step-by-step solutions will effectively solve bat problems permanently.
On-site evaluation.
Humane, poison free, trapping solutions, monitored daily.
Complete exterior seal-up of your home or building.
Decontamination of affected areas.
Guaranteed work, with a warranty you can count on.
We specialize in bats and other wildlife.
​
Nashville Bat Prevention Service Area​
​Our bat control and prevention services​ are available in the greater Nashville and the Middle Tennessee area which includes Nashville, Brentwood, Franklin, Hendersonville, Goodlettsville, Gallatin, Belle Meade, Fairview, Mt. Juliet, Spring Hill, Thompson's Station, Columbia, Lebanon, Smithville, Hermitage, Antioch, Bellevue, Dickson, Pegram, Centerville, Kingston Springs, White House, Portland, Greenbriar, Springfield, Ridgetop, Millersville, Carthage, Tullahoma, Manchester, Cool Springs, and all of Middle Tennessee.
Greater Nashville Bat & Wildlife Services
Animal Pros of Nashville specializes in bat control and other wildlife removal, rodent and animal proofing services, and clean-up and restoration services. Other animals we remove includes squirrels, birds, armadillos, rats, mice, snakes, raccoons, skunks, opossums, coyotes, dead animals, foxes, and bobcats.
Bat Bugs or Bed Bugs In Nashville
Bats have the ability to fit into some very small openings in or around homes in greater Nashville, Franklin, and Brentwood. Different mammals, do serve as hosts to different parasites, especially during the warmer times of the year, in the case with bats and bat bugs. Just as bat bugs actively feed on the host or bats, if the bats are excluded or happen to leave, bat bugs will be searching for a new host. They are very similar to a bed bug and can be mis-diagnosed even by professionals. If you have bats getting in your soffit or attic, or a bat infestation, contact Animal Pros today. Bat infestations will require a removal process, repair of the openings they are using, and clean-up of their droppings. Contact Animal Pros specialists today for an evaluation.
Bat Proofing Services
Bat problems in or around a home can be difficult to address properly unless you are a trained professional. For bat exclusion to be effective, all secondary openings must be secure to ensure when bats are excluded, there are no openings for them to get back into. After bat exclusion is complete, or all bats have been removed, then primary entry points can be secured. Animal Pros specialists are bat compliance certified, and specialize on long lasting asethetic repairs to keep all wildlife out for good. Contact a Animal Pros bat control specialist for bat proofing your home today.