Bat Guano Dropping Cleanup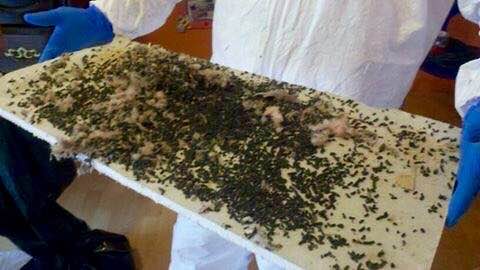 If you notice droppings around your home or in your attic, in Greater Nashville and Middle Tennessee, and have noticed bats, they are likely utilizing your home for shelter. Bats are easily attracted to man-made architecture as it provides a excellent place to roost, be protected from the weather, and stay hidden from predators. Bats roost in colonies, which can contain hundreds and even thousands of bats. Although they are great for the environment and controlling mosquitos, the droppings they leave behind, can create a serious health hazard. The larger the colony of bats, usually will mean the larger accumulation of bat guano or droppings will be present. As bats go in and out of a structure, they will defecate, usually under or around a place in the home they are entering and exiting. Bats, even though small in size, have one of the quickest accumulating dropping of any mammal. As a single bat can consume up to 500 insects nightly, that will produce a rough equivalent in droppings. If you notice bat guano droppings, contact a Animal Pros specialist for professional clean up services today. The risks of bat droppings include:
guano droppings producing a unpleasant ammonia type odor.
Large fecal deposits can create a risk to structures, buckling under the excessive fecal weight, staining the structure, and promoting the growth of bacteria, viruses, and disease.
Fresh droppings can sweat and run into the interior.
Bat droppings can harbor the fungal disease, histoplasmosis.
Bats can carry rabies.
Identifying Bat Droppings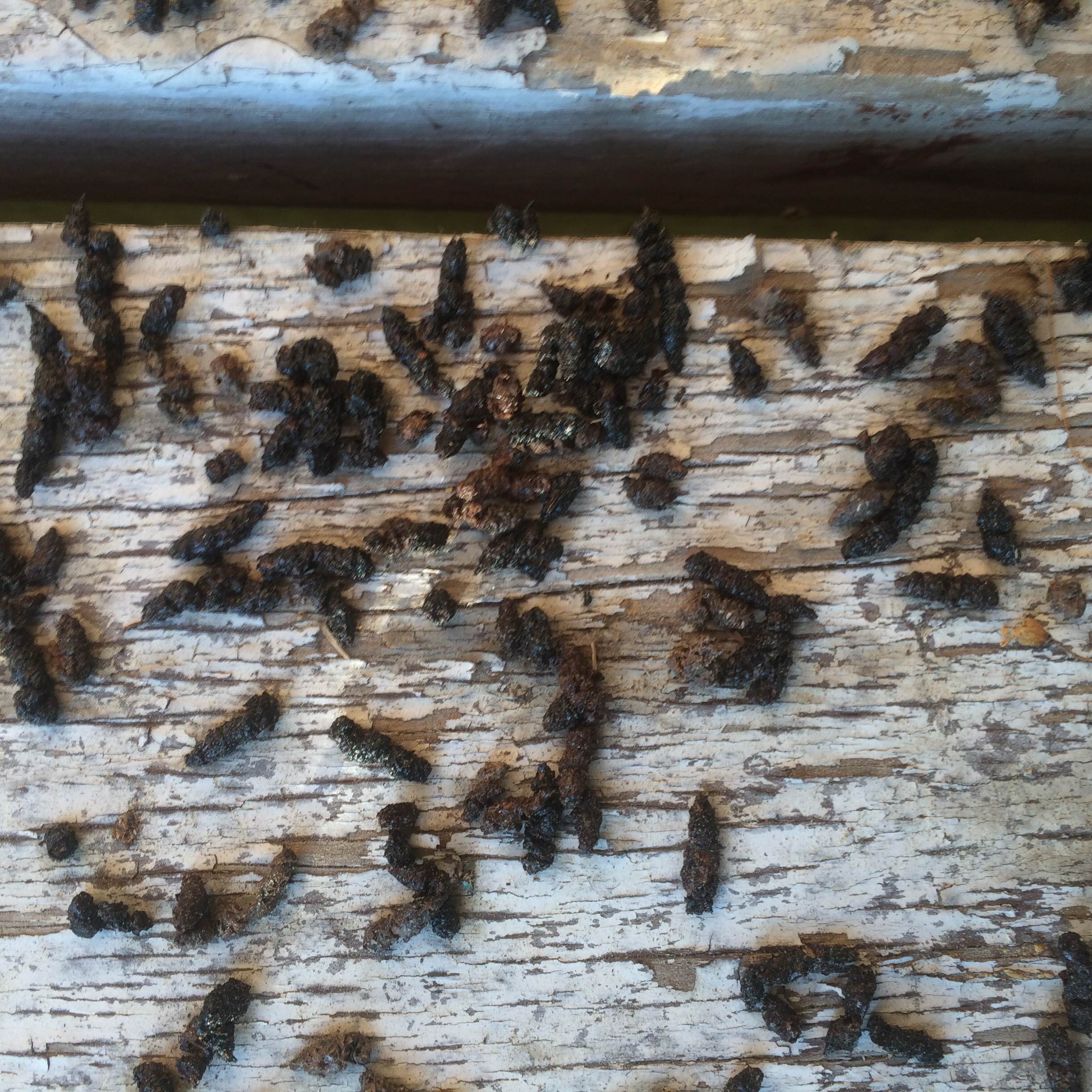 Bat droppings will often be piled together, and located directly under where the bats will be roosting or entering the structure. Bat droppings will be similar to mouse droppings, but will be much larger. They will be long and cylinder shaped like mouse droppings, and often have a shine or glimmer from insect wings. Use caution around bat droppings and do not disturb fecal accumulation areas. Bat droppings can carry fungus known to cause Histoplasmosis. You should not touch, breath, or disturb bat guano accumulations. For professional disinfecting and sanitizing of bat droppings, contact a Animal Pros specialist today.
Health Hazards From Bat Droppings
The presence of bat guano will usually present several factors that can be a huge problem and even a health hazard in a home or business. Problems from bat guano include:
Health Hazards in a home.
Health Hazards to workers.
Diseases from contaminated materials.
Damage to the structure from the excess weight of bat guano.
Presence of bat bugs or other parasites and pathogens.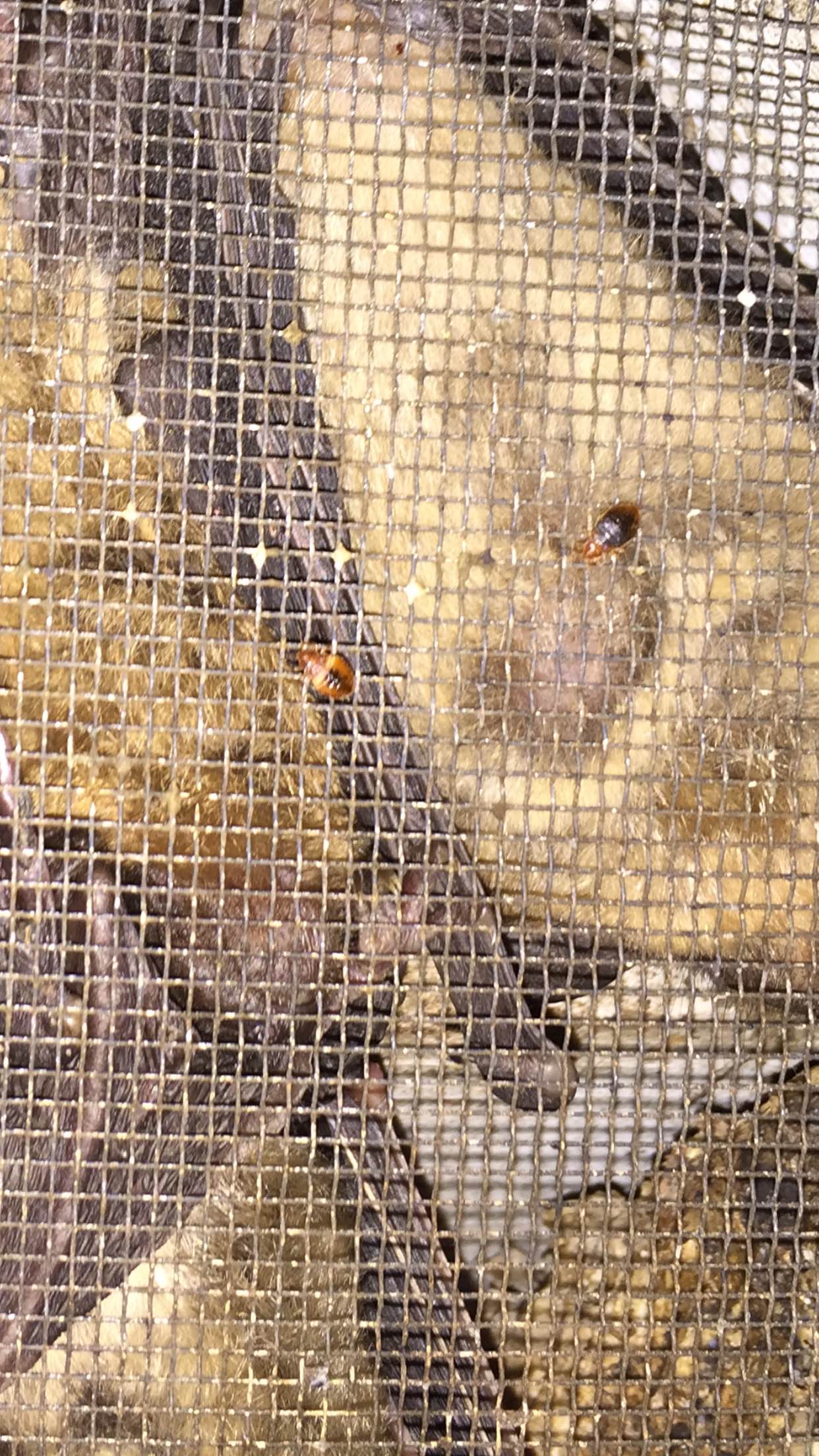 Bat guano can contain over 60 human communicable diseases. Histoplasmosis, is the most common bat infectious disease from droppings, as it is caused from inhaling spores contaminated by the histoplasmosis capsulation fungus. Disturbing droppings, causes the fungus and droppings to become airborne, creating a unhealthy and hazardous environment. Documented cases of Histoplasmosis have occurred commonly throughout the nation. Rabies is the most well known infectious disease caused by a bite, scratch, or contact with a mucus membrane of bats. Bats are implicated as the prime carrier, and most responsible for human rabies related cases in certain areas. Bites from a bat, may be very small or even go unnoticed. It is proven that bats and bat guano are a major source of zoonotic viruses worldwide. Bats are susceptible to viruses more than any other mammal, due to flight, torpor, roosting habits, and reproductive cycles. Bat-bourne viruses are among the most important of the emerging viruses, including Ebola virus, Coronavirus virus, Lyssavirus, and Marburg virus capable of spreading diseases over a wide geographical area.
Odors From Bat Droppings
Bat guano or droppings, can quickly cause odors that can be detected in the interior of the home, when bats decide to move in your attic. While the smell can be quite unpleasant and even unbearable, there is help, by Animal Pros specialists. Bat droppings and odors do not magically go away over time or dissipate in odor. Over time, guano accumulations will become more odorous, and form diseases, viruses, and bacteria. The only way to address odorous bat droppings, is to remove the bat guano and any contaminated material it has been in contact with, that may include insulation and even drywall. Common factors that can cause odors to be over bearing and smelled in the interior of a home include:
The presence of a large bat colony.
A pre-existing long-term bat problem.
Large

guano

accumulations.
Crystalized bat urine stalactites.
Fecal and Urine staining on the structure.
The presence of dead bats.
Contact a professional at Animal Pros, for an evaluation to remove bat odors from your home today.
Bat Bugs Found In Bat Guano
Bat bugs, which closely resemble bed bugs, are one of the parasites that live off bats and will feed of their blood. Bat colonies large and small can have bat bugs present, and in a attic, can spread out even into the interior of the home. To bat bugs, humans are a secondary host to feed on, especially if bats have been removed or excluded. Bat bugs can often be found close to bat roosting areas, and will be brownish to reddish in color, and easily visible with the eye. If bat problems have been prolonged, and there is a large guano accumulation, bat bugs can be found in the hundreds, if not thousands. Eggs hatch in 4 – 12 days.