Birds In The Attic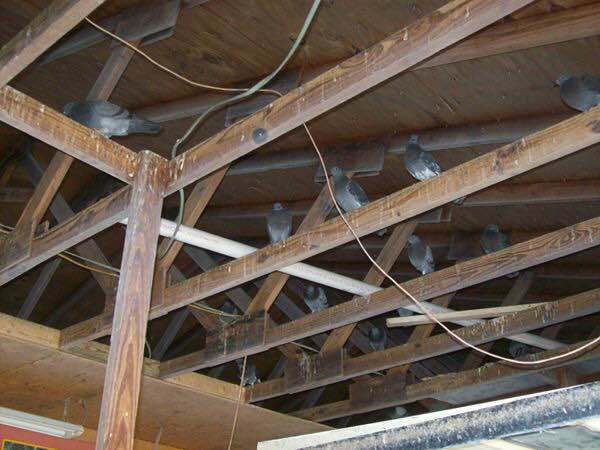 Birds in the attic problems are one of the most common calls we receive in Greater Nashville and Middle Tennessee. Birds will seize the opportunity to find a secure sheltering area around a home to nest. Any small gap, construction opening, or easily accessible spot, and birds will enter in to the attic. Common bird in the attic complaints we receive include:
Birds in the gable vents.
Birds in the attic vents.
Birds in the window dormers.
Birds in the eave gaps.
Birds getting in the siding.
Birds in the ridge vents.
Birds in the gutter.
Birds going in the roofline.
Animal Pros specializes in bird removal and control services, and can help remove birds from attics. Our specialists are bird deterrent certified, and professionally trained to repair openings birds are using. Contact a Animal Pros specialist today, as our bird control services include:
An on-site, no obligation evaluation.
Visual inspection of your roof, attic, home, and yard.
Visual inspection of vents and openings.
Identification of type of birds causing the problem.
Evaluation of damage and nesting.
Professional repair of damaged openings.
Clean up and remediation of nesting and droppings.
Permanent solutions with a guarantee
How Do Birds Get In The Attic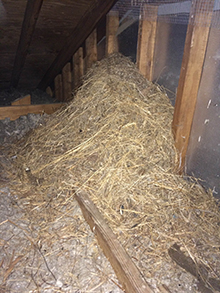 Birds are often attracted to urban areas and man-made architectural homes and buildings that offer protection from the environments. With the number of suitable nesting areas and the number of bird feeders neighborhoods provide, birds are attracted to residential living. Around a home, birds will often roost close to sheltered areas, including window dormers, gutters, vents, and overhangs. If there is any construction gap or opening, birds will instinctively enter in the attic area. Once in the attic, birds will aggressively bring in nesting materials, including straw and hay. As the birds continually move in and out of these openings, damage will become worse as the openings will become larger. Professional assistance is suggested and required to solve the bird problem quickly.
Bird Damage In a Attic
Bird damage in the attic can range from severe to minor, depending on the number of birds that have been entering the attic, and how long the problem has been occurring. The best thing to do when you notice a bird problem, is seek professional assistance immediately. Prolonged problems never get better on their own, and will only get worse. Nesting and droppings from birds can quickly accumulate, creating a hazardous environment. Bird droppings are linked to upper respiratory infections, like histoplasmosis, especially when droppings accumulate. Dangers happen when bird droppings dry out in a attic. Droppings do not break down in a attic, as if they were outside exposed to the elements. As droppings and nesting are disturbed by the birds, fungus spores and particulates become airborne, creating hazardous conditions. In addition to dropping risks, accumulation of nesting is another problem, with nest sizes reaching several feet in height and width. The presence of bird mites and other parasites can also be a risk, as professional assistance is required. Contact a Animal Pros specialist for immediate help solving your aviary issue today.