Fox Removal Johnson City ~ 423-763-1832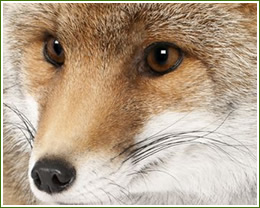 Foxes are wild animals and often wander into farmland, into residential neighborhoods, and suburban areas while hunting for prey.
They are a big threat to livestock, especially chickens, and are known for raiding coops.  They can cause a lot of problems for farmers.
While mostly a danger to poultry, foxes may have rabies and can be dangerous to humans and pets.
Naturally nocturnal and solitary, a fox wandering into areas with people may very well be rabid.
Johnson City Fox Trapping
If you are having problems with a fox on your property, give us a call.  Foxes can cause damage to livestock and pets.  They are a nuisance animal that should not be allowed to run free near your home. Don't run the risk of a fox attacking a family member. Let our professionals help with your fox removal problems.
Animal Pros will help you with fox trapping in Johnson City. We will capture the fox in a humane manner. We will also relocate the fox back into the wild.