Wildlife Removal Myrtle Beach
Animal Pros ~ 843-790-4077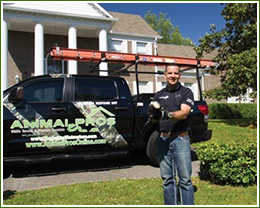 Myrtle Beach Animal Pros offers complete wildlife removal and control solutions to Myrtle Beach area wide. Our humane and permanent solutions are why we are the best choice for homeowners, businesses, property managers, and government. Allow us to provide our expertise, knowledge, and experience to offer a permanent solution for wildlife problems, using proven techniques that are safe for your family, pets, home, or business.
Animal Pros located in the Horry County is your best solution for your wildlife removal needs. With area wide service all around Myrtle Beach, we offer prompt same day service. Animal Pros specialists are multi state certified, fully licensed and insured, carry three times the amount of liability insurance, and carry workers compensation. Rest assured while on the job, our specialists are fully protected. Thousands of commercial and residential clients trust Animal Pros, so should you. Call us today, and allow our specialist to solve your wildlife problem.
Wildlife Control Myrtle Beach
Animal Pros wildlife control services are offered in Myrtle Beach, South Carolina area wide. Stellar customer service and providing humane permanent solutions for human – wildlife conflicts is why people choose to "Go With The Pros" @ Animal Pros. Here is why to choose us:
– Multi State Certified
– Bird Barrier Certified Installer
– Bat Standard Compliance
– National Wildlife Control Operator Association Membership
– Certified Urban Marksman
– Aerial Lift Certified
– A+ BBB Accredited
– Angie's List Approved
– Experienced and Highly Trained Technicians (Animal Pros Certified)
Our specialists ensure proper wildlife control, and pick up captured animals safely, and in a timely manner. Once all the animals have been removed, we can repair openings and clean up any damage left behind, to ensure animals do not return. Animal Pros offers wildlife services in Horry County, South Carolina.
Animal Control Myrtle Beach
Myrtle Beach Animal Pro's initial visit includes a visual inspection of your home or property to determine the animal causing the problem, as well as openings the animal may be using, attic, crawlspace or basement, sub floor, wiring, insulation, duct lines, and any other animal evidence. We provide a personalized inspection report detailing all our findings and recommendations, and affordable options for a permanent solution.
Animal Removal Myrtle Beach
Wildlife problems are increasing in residential neighborhoods from building and development into what was once wooded areas and has contributed human – wildlife conflicts. Animal Services in most cases has discontinued service for wildlife related calls due to government budget cuts. Wildlife assistance is available through private companies. Animal Pros offers safe, fast, and effective wildlife and animal control services. We are state certified and highly trained, and offer professional advice and wildlife support solutions to homeowners, businesses, and Municipalities.
How To Get Rid of Wildlife
When wildlife problems happen, its when you least expect it. There are several things that can be done to protect your yard and home from wildlife intrusions. Scampering on the roof, scratching in the walls, thumps from under your home, are all a sign of a possible wildlife problems. It is always best to get a professional wildlife inspection. Our technicians are highly trained and state certified, and in most cases can walk in your home, smell the air, and tell you exactly what type of animal you have. Avoid wildlife problems by following these steps:
Do not feed pets outside.

Avoid feeding wildlife (Squirrel and Bird Feeders)

Keep trees and shrubs manicured and 4′ to 5′ from your roof.

Ensure there are no openings top to bottom of your home.

Keep yard debris to a minimum as it will attract wildlife.

Secure openings around decks and sheds.

If you notice activity, call a Animal Pros specialist. Problems can be avoided the earlier they are diagnosed.
---
100% Humane and Permanent Wildlife Removal and Animal Control
Affordable
Immediate Response
Removal and Repair
Humane Capture and Release
Odor Control
State-Certified
Accredited
Trusted By Major Metro Governments
Effective, Non-Intrusive
Contamination Clean Up
Environmentally Friendly
Protect Your Family, Home, and Investments