Miami Tegu Lizard Removal
Argentine Black and White Tegu (Tupinambis merianae)
Height: 6″-8″
Length: 30″-52″
Weight: 20-40 pounds
Diet: Omnivorous, eating both animal matter and plant matter.
Breeding: Starts in late April.
Gestation: 58-62 Days.
Reproduction: Will lay up to 35 eggs annually starting in early summer.
Habitat: Urban areas with the availability of food water and shelter, under decks, in attics, in  burrows, and dense over growth.
Legal Status: Non native species in Florida, and required to be euthanized if trapped according to the Florida Fish and Wildlife Conservation Commission. It is illegal to release Tegu lizards in Florida. To report all sightings call 1-888-483-4681
Other Names: Black and White Tegu, Gold Tegu, Tegu Monitor, Red Tegu, and Swamp Tegu.
Interesting Facts: Tegu lizards have established breeding in Miami-Dade and Miami-Dade Counties in Florida. Tegu lizards can survive in a burrow in as low as 35 degree tempratures. Anything that attracts a Dog, Cat, or Raccoon, will attract a Tegu.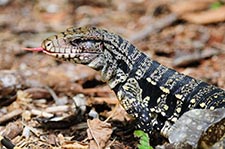 If you happen to be a homeowner in Miami, Florida from Miami-Dade County down to Miami-Dade County, Tegu lizards are sure to show up on your property. If you see a Tegu on your property you should contact a Animal Pros specialist. Tegu lizards a invasive species and have sharp teeth, a long tail, strong jaws, and long claws. There have been reports of sightings throughout the area, and Tegus are not protected by Floridas wildlife laws. Tegu lizards will defend themselves often puffing themselves up, and even standing on their back legs while moving toward the percieved threat. Pets of all sizes should be watched at all times, as Tegu lizards are capable of a bite force of 220 lbs per square inch, which is powerful enough to crush human fingers.
Common nuisance complaints from Tegu Lizards include:
Tegu lizard in my yard.
Tegu lizard in my lanai.
Tegu lizard attacking my pet.
Tegu lizard in the attic.
Tegu lizard burrow in the yard.
Tegu lizard under the deck.
How to remove a tegu lizard?
How To Get Rid of a Tegu Lizard
If a Tegu lizard is spotted on your property, is likely to return, especially if feeding on fruit, or dog and cat food. Like many reptiles, Tegu lizards are more active during the daytime. In urban areas, there is the perfect habitat of food, shelter, and water to keep Tegu lizards around, increasing human-wildlife conflicts. If a Tegu lizard is seen, try to take a picture, note the location, and report the sighting to exotic species reporting line 1-888-Ive-Got1, and then follow up with a call to a professional trapper a like Animal Pros specialist. Tegu lizards are often confused with nile monitors. Cage trapping with a positive set, is the best method for removal, so it is best to contact a professional for help. Contact a Animal Pros specialist today.