Gatlinburg Snake Removal ~ 865-304-2916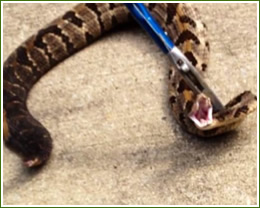 Snake removal should only be attempted by professionals because snake identification can be difficult and dangerous. Non-poisonous snakes may seem harmless, but all snakes can be contaminated with salmonella and excrete foul bacteria. If you spot a snake in your home, business or property call a professional right away.
Animal Pros can take care of snake infestations of any scale, and will respond immediately to make sure your home or business is safe.  We are experts in snake control and relocation and will take the problem far away from your home.
Gatlinburg Snake Control
Gatlinburg Snake removal is needed when you find a snake in the home. Snakes usually come into your home in search of food. If you have small rodents or animals in or around your home, you may also have a snake problem. A snake can enter your home through an very small openings. Animal exclusion work that prevents rats, mice, and other animals from getting into your home will also prevent snakes from entering. Most snakes are not poisonous but don't try to perform snake control on your own. A bite from a poisonous snake can be deadly. Animal Pros snake removal and control can help you get rid of snakes in Gatlinburg, snake trapping, and snake exclusion. Let us get snakes out of your house.